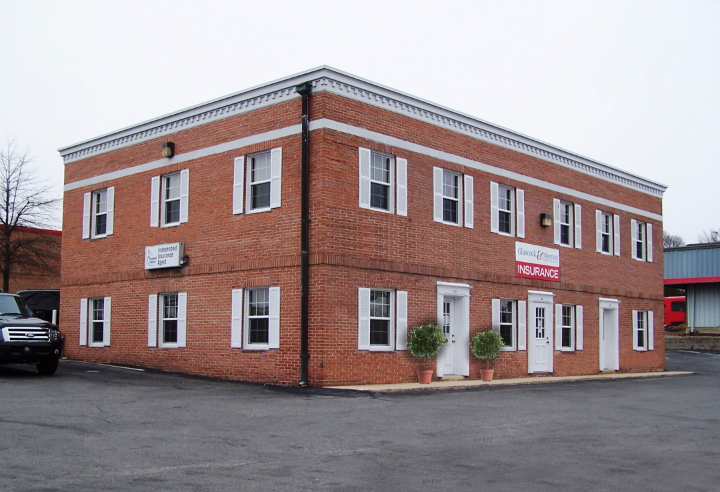 Glascock & Meenan, celebrating over 50 years in business, is located in Prince Frederick at 45 W. Dares Beach Road in the red brick building directly across the street from Safeway. Bedford Glascock started the agency in 1967 and Keith Meenan joined the agency in 1978 becoming president in 1987. We know most of our clients on a first-name basis, and this personal relationship between agent and customer stretches over 5,000 active policyholders. Glascock & Meenan is contracted with over 12 insurance companies, so we can find the best fit for our client. Focus is on a client's needs, and we will move a client to a different carrier when warranted. We are truly an independent insurance agency and proud to be a member of the Trusted Choice Independent Insurance Agents Association of America.
We have no voicemail. When you call Glascock & Meenan, you will talk to someone immediately; you talk to a real person. We offer personal lines insurance such as home, automobile, boat and umbrella. Our commercial department will work up a package that can include: property, liability, automobile, workers compensation, contractors' equipment, etc.   We will write your life and health insurance as well. Whatever type of insurance you're looking for, you will get fast personal attention.
This service is from a staff of nine and most of our agents have over 15 years experience with Glascock & Meenan. We have a culture of service after the sale. For example, a client whose auto insurance policy was purchased through Glascock & Meenan was stopped by police. The client was unable to show proof of auto insurance to the officer who had pulled him over. Based on a new Maryland law, the client would have been fined $50. However, a call to his Glascock & Meenan agent led to an email and text which was sent to the client's phone. The emailed and texted document showed that the driver did indeed have auto insurance and the fine was averted. We use modern technology while providing "old-fashioned" service.
On a periodic basis, Glascock & Meenan agents evaluate a client's insurance portfolio, and recommend changes as needed. We have invested in technology that allows us to easily communicate with our customers and be proactive. We notify clients when insurance companies make significant coverage changes, and we will suggest options. For example, insurance companies frequently change Hurricane deductibles, a move that sometimes goes unnoticed by clients. We constantly review for any changes and notify our customers. We also encourage our clients to contact us if there are any changes in their lives. For example, if they have children heading off to college or a change in marital status, etc., it's good to discuss the many insurance ramifications and options.
Being a full service insurance agency, we also provide assistance during the claims process. This intangible product we call insurance becomes real when there is a loss, whether small or not so small. The purpose of having insurance is to be made "whole" again. We take the initial claim call and follow through. Incurring a loss and filing a claim can sometimes be a confusing, overwhelming, or frustrating experience. We are involved during the entire claims process and will intervene with the insurance company, if needed, to get your claim settled.
Glascock & Meenan has long-standing relationships with the insurance companies we represent, and was given a $5,000 grant to use internally or donate to a local charity. We were happy to pass the grant on to the Calvert County Rescue Association Memorial Fund, as some of us are first responders ourselves, and know firsthand their value in our community.
Glascock & Meenan is truly a "brick and mortar" insurance agency that is here to serve YOU, our valued client. For virtually any kind of insurance, call 410-535-0222 to make an appointment with an agent. Walk-ins are also welcomed, Monday through Friday 8:30 to 5. For more information, visit our website at Glascock-Meenan.com.