*This document is intended for facilities outside the health care industry.
With the ongoing COVID-19 pandemic, it is crucial to review and update policies for cleaning and disinfecting your facility, equipment and vehicles. It is recommended that you increase the frequency of cleaning and disinfecting high-touch surfaces, which may include door pushes, handles, touchpads, elevator buttons, faucets, sinks and electronic devices, as well as common areas, such as entryways, lobbies, hallways and restrooms. The Centers for Disease Control and Prevention (CDC) offers steps for properly cleaning and disinfecting facilities.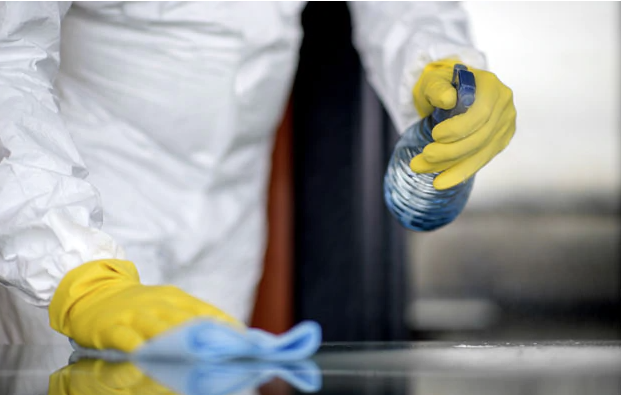 If infected persons have been in your facility, the CDC provides additional considerations:
Close off areas visited by the infected persons. Wait 24 hours (or as long as practical) before cleaning and disinfecting.
Cleaning staff should clean and disinfect all areas and high-touch surfaces.
Additional cleaning/disinfecting may not be necessary if more than seven days have passed since the infected persons have visited or used your facility or vehicles.
How to Clean and Disinfect
Hard (Non-porous) Surfaces
Non-porous surfaces should be cleaned using a detergent or soap and water prior to disinfection.
The EPA provides a list of disinfectants for use against SARS-CoV-2, commonly known as coronavirus, the virus that causes COVID-19. This list outlines appropriate contact times (amount of time surface should be visibly wet) and surface types on which approved disinfectants may be used.
Note that new cleaning products should be used as instructed, with appropriate personal protective equipment (PPE), such as gloves. Make sure employees are properly educated on how to safely remove and dispose of PPE.
Diluted household bleach solutions can be used if appropriate for the surface. Follow manufacturer's instructions for application, ensuring a contact time of at least one minute and allowing proper ventilation during and after application. Check to ensure the product is not past its expiration date and never mix household bleach with ammonia or any other cleanser as the mixture can create hazardous vapors. Read More