When properties are left vacant or are unoccupied, there are proactive steps that should be taken to help prevent losses due to heating or electrical system malfunctions, water damage, vandalism or other causes.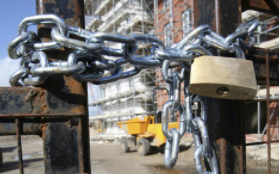 Heating/electrical system
Before the winter months, hire a contractor to inspect the heating system to ensure it is working properly to reduce any potential for freezing.
If using LP gas, propane gas or oil heat, check the fuel level in the tank periodically to ensure it does not run out of fuel.
Check the building regularly (at least once a week) to ensure the heating system is operating properly.
If the heating system is to remain in service, be sure the electric power is not shut off since this will shut down the heating system. Because the electrical service will remain on, inspect the main electrical panel, wiring and outlets. Repair or replace any defective or deficient items.
If the building is not to be heated, turn off the fuel at the main shut-off valve to reduce the potential for malfunction and explosion. Check the valve periodically to ensure it is working properly. If the electrical system is to be shut off, it should be shut off at the main circuit breaker and the breaker locked open.
A chimney service should inspect and clean any chimneys to ensure they are free from obstructions, such as nesting birds. Install chimney guard screencaps to help prevent infestation.
Water damage
If the heating system is a hot water system and is to be turned off completely, drain the plumbing system (or properly winterize it) to prevent damage from freezing.
If the hot water heating system and/or water pipes will not be drained, install a waterflow sensor and low-temperature sensor to be monitored by the alarm system. Keep the thermostat at a consistent temperature throughout the winter months.
If the water will not be turned off insulate the water lines that run along exterior walls so that the water supply will be less likely to freeze. If heat tape is used on piping, follow the manufacturer's instructions closely to prevent fires. Open cabinet doors to allow heat from the room to get into concealed spaces. Drain and shut off outdoor water faucets to prevent vandalism and freezing damage. In residential structures shut off dishwasher and washing machine hoses to prevent serious water damage losses Read More