Construction equipment theft can be a big financial hit for a business, with long-lasting repercussions like loss of productivity, inability to complete contracts on time, and loss of income. Recovery efforts can be time consuming, expensive, and may not even be successful, resulting in potentially further financial impact when new equipment must be purchased. Prevention can be a low-cost strategy, and by following the tips below, criminals may be deterred from stealing expensive machines.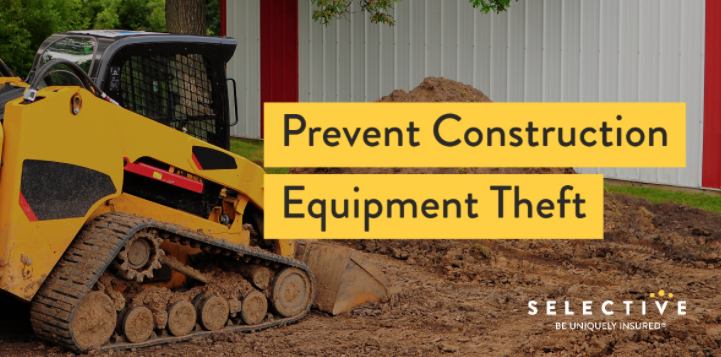 Secure Equipment Daily
Equipment that must stay on site can be immobilized at the end of the day by anchoring it with chains, removing the battery, and lowering blades and buckets. Park large machines in a circle, with smaller portable equipment in the middle, creating a barrier to protect the smaller items. Never hide keys inside the machine – they should be stored in a locked location on-site, or taken off-site. Light towers can also be an effective way to ward off intruders, since they draw attention to the equipment and make it easier to spot unusual activity.
Customize Your Equipment
If possible, make company equipment stand out with custom modifications such as a decal of the logo, a unique paint job, or custom stamped ID number. Equipment that is easily recognizable or that stands out to passersby will help to deter thieves and help with recovery if it is stolen.
Protect Equipment in Transit
Transporting equipment from one location to another presents an opportunity for theft, particularly if there is an overnight stop in an unsecure location. Plan routes carefully, and if an overnight is unavoidable, find a secure place to store the equipment. Additionally, keep the fuel levels at a minimum during transport, lock the unit to the transport platform, and remove the keys to further deter theft. Track the movements of equipment between job sites to ensure that it arrives at the location as planned. Devices like GPS trackers come with a cost, but can be worth the investment in the long run.
Keep an Equipment Inventory
Keep a detailed inventory of equipment, including the year, manufacturer, model, serial number, and any unique features of each machine. Take photos of machines from multiple angles and keep prints in the inventory catalog. Be sure to register every unit on a national database used by law enforcement, such as the National Equipment Register (NER), which may help in the recovery of stolen items. If equipment is discovered missing, report it as soon as possible to law enforcement – the sooner it is reported, the more likely it is that the machinery will be found.    Read More