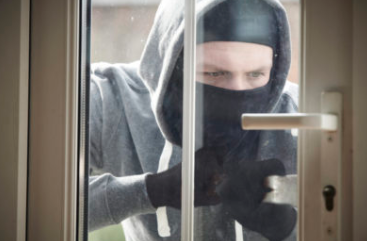 While my husband and I were out visiting family one weekend, thieves broke into our home, took the pillow cases off our bed, and filled them with our valuables. We didn't know this, of course, until hours after they'd escaped, undetected, into the cool evening air.
Up until that point, I'd been naïve about home break-ins. I didn't think one could happen to me—and for good reason. The number of U.S. burglaries has declined over the past 10 years. Yet, in 2017, there were still more than 1.4 million committed, as reported by the FBI's Uniform Crime Reporting Program.
Although a homeowners policy or renters policy can help defray the costs of stolen goods, for many of us, a break-in is about more than just lost stuff. For weeks after our own, I felt violated, afraid and a little angry.
What's a homeowner to do? Turns out there are several simple steps you can take to help keep the bad guys at bay. Here's what you should know.
When Do Most Burglars Strike?
Most burglaries are committed by careful thieves who plan crimes based on when they're least likely to get caught. That means they're sometimes walking the neighborhood, taking note of homes with dogs, with security systems, and with long stretches of time with no one home.
Burglars Strike During the Day
Burglars don't want to run into people. Doing so makes their job that much more difficult, which is probably why more than half of home break-ins occur during the day, when most people are at work or at school. Read More