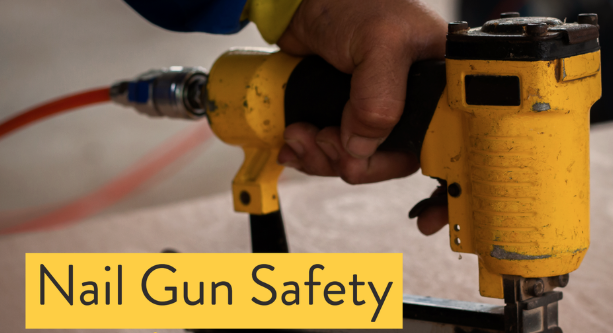 In the construction industry, nail guns have become the gold standard for wood frame construction. They're easy to use, offer much more power than a traditional hammer, and allow crews to complete projects faster.
But they're not without their risks. According to the National Institute for Occupational Safety and Health, they send 37,000 people to the emergency room every year. More than half of those visits are work-related injuries.
 Common Types of Nail Gun Accidents
​Double Fire
When the nailer accidentally contacts the workpiece after recoil, it can cause 
a second unintended firing
 and injure the contractor.
At all times, and especially when doing precise work, be sure that you can pull the gun fully away after recoil. Never push too hard on the gun to compensate for recoil – you risk unintentional contact with the workpiece.
These types of accidents are most common with contact trigger nailers. If possible, use a full sequential trigger gun.
 Airborne Nails
On occasion, a nail shot from a gun will blow through the work, miss it entirely, or strike a hard surface and ricochet away. These nails become airborne projectiles and can injure bystanders or the contractor using the nailer.
Nail Pass-Through
If nails hit weak spots in the wood, they can pass through the workpiece. This is most dangerous when the contractor is manually stabilizing the wood. In this case, the nail can easily penetrate and injure the hand.
Awkward Position Work
Contractors occasionally have to fire nail guns from unstable positions, such as:
above shoulder height,
from a ladder,
in tight quarters, or
holding the gun with the non-dominant hand.
Because full control is not possible from these positions, the risk of injury is higher. Read More