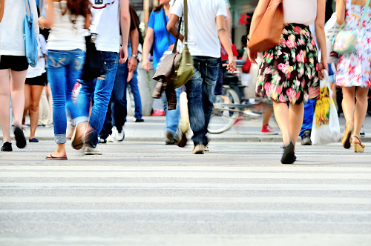 Emily Guy Birken
Generally, we don't think of walking as a hazardous activity, but pedestrians are vulnerable any time foot traffic and vehicular traffic mix. Nothing underscores this point more than the fact that pedestrian fatalities are on the rise. In 2017, 16 percent of all traffic fatalities were pedestrians. That's equivalent to 5,977 deaths, an increase of 1.7 percent over 2016. That's a 25-year high!
The five safest and the five most dangerous states for pedestrians offer lessons to help you be more careful when both walking and driving. In order to determine which states are safest and which are most dangerous, we used one key metric from the National Highway Traffic Safety Administration (NHTSA): pedestrian fatalities per 100,000 residents. This metric allows us to compare the relative safety of states with different population sizes.
Factors Contributing to Car vs. Pedestrian Accidents
Improved Economy, Lower Gas Prices. These two factors have led to an increase in the number of drivers on the road, and more drivers mean more accidents.
Marginal Drivers. Lower gas prices have boosted the number of "marginal" drivers—such as teenagers—on the road. These drivers are more likely to have car accidents.
Repeal of the National Maximum Speed Law. Since this law was repealed in the 1990s, traffic fatalities overall have risen.
Cell Phone Usage. Distracted driving is the cause of many accidents and pedestrians who are looking at their cell phones may be less aware of their surroundings and the danger of passing cars. Read More