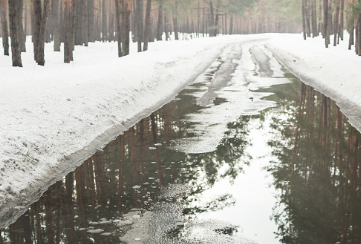 Kathy Simpson
When most people hear the word "flood," they think of rivers overflowing their banks in the springtime and of tropical storms that thrash the Atlantic and Gulf coasts in late summer and early fall. But flooding is a year-round risk that doesn't end when winter arrives. Across the country, winter is a season of heavy snowfall, rapid snowmelt and intense rainstorms that can lead to flooding — and put property and lives in peril.
The winter months of 2018 were a case in point when many areas of the country experienced unusually severe flooding.
The East Coast faced not one but two historic "bomb cyclones"— a catchphrase used to describe a strong low-pressure weather system that intensifies rapidly. The first storm pummeled the East Coast in early January, dropping snow from Georgia to New Brunswick, with Boston bearing the brunt of the impact in the Northeast. Seventeen inches of snow fell on the city, and a storm tide reaching over 15 feet flooded the downtown area, submerging roads with icy water and forcing some people to evacuate their homes. The second storm on March 2 also brought hurricane force winds as well as heavy rains to coastal New England, once again submerging Boston streets and those of nearby towns in floodwaters.
Also in January, torrential rain caused flooding in the west, including Southern California, which led to the death of at least 21 people, and coastal towns in Oregon and Washington. Unusually heavy rains inundated parts of Las Vegas and the surrounding valley, which until that point had been experiencing record drought.
In February, a combination of rainfall and rapid snowmelt in the Midwest brought many rivers from Chicago to Houston to flood stage. The Grand River in Grand Rapids, Mich. reached above 20 feet, more than two feet higher than flood stage. States of emergency were declared in 17 counties along the Ohio River due to high water and storm damage.
Causes of Winter Flooding
Winter flooding is a countrywide risk, but its cause depends on where in the country you live.
Along coastal areas, including the Great Lakes, storms bearing snow, heavy rains, and strong winds can cause water levels to rise, which can lead to flooding and beach erosion, especially when the storm's arrival coincides with a high tide. The East Coast is particularly susceptible, where storm systems known as nor'easters — large, low-pressure areas whose winds come from the northeast — can lead to coastal flooding from the Mid-Atlantic states to the Northeast. Nor'easters occur every year, but climate models are showing an increase in extreme precipitation during the winter across the Northeast and a corresponding increase in the potential for flooding. Read More