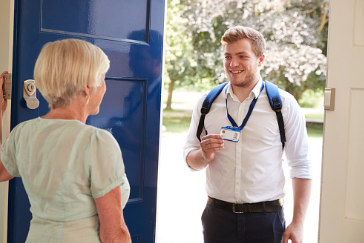 Emily Guy Birken
The hail storm came in quickly and left missing shingles, pits, scars, and other roof damage in its wake. It was our first year of home ownership, and my husband and I were dismayed to realize that we were going to have to get a roofer to repair the damage the storm had caused.
The day after the storm, a contractor came calling door-to-door in our neighborhood, offering to handle the repairs. He even said he would contact our insurance carrier on our behalf, in order to make the whole process simpler for us.
Several weeks later, we learned that this contractor was using some pretty shady business practices, and was doing a mediocre job (at best) on the roofs he did repair. We were glad that we had already contacted our insurer before he knocked — and had been warned against hiring unsolicited roofers.
Unfortunately, having to avoid shady contractors (and worse) in the wake of a natural disaster is a common experience. After a natural disaster occurs, fraudsters, unscrupulous businesses, and con artists often try to victimize the residents a second time by scamming them in the midst of the cleanup effort. Here's what you need to know about the most common types of post-natural disaster fraud, and what you can do to protect yourself.
The Fraud: Contractors Asking for Upfront Payment
It should be a red flag if any contractor you are considering hiring asks for all of the payment (or a large percentage) up front. While the request may sound perfectly reasonable — your contractor may claim that he or she needs upfront payment to cover the cost of supplies and equipment — the reality is that many contractors who make such a request either disappear with the money, or do inadequate work. Read more