In just minutes, get a quote on auto insurance designed to help protect you and your car, as well as the people around you. Car insurance coverage can vary from state to state, so it's important to know what's included in your basic coverage, the policy limits and what, if anything, you may need to add.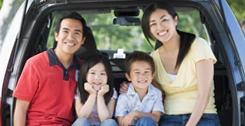 Types of Car Insurance Coverage
Liability Coverage
Liability coverage includes both bodily injury and property damage liability coverage and is required in most states. Basically, if you cause an accident, hurt someone or damage someone's property, it can pay for covered damages and to defend you if a lawsuit results.
Comprehensive Coverage
Comprehensive coverage helps pay for damage to your vehicle that is not caused by a collision. For example, theft, vandalism, hitting a deer or other animal, storms and certain natural disasters.
Collision Coverage
Collision coverage helps pay for damage to your vehicle if your car hits another car or object, gets hit by another car or if your vehicle rolls over. This coverage is generally required if your car is financed or leased.
Personal Injury Protection
Personal injury protection (PIP), also called no-fault insurance, is available in certain states. It pays medical expenses, and in some cases lost wages and other damages regardless of who is at fault in an accident.
Uninsured/Underinsured Motorist Coverage
Uninsured/underinsured motorist coverage can help pay for damages and medical costs resulting from an accident caused by someone who has no insurance or inadequate insurance coverage.
Medical Payments Coverage
Medical payments coverage helps pay for covered medical expenses for anyone injured while in your vehicle, regardless of who is at fault. Read more