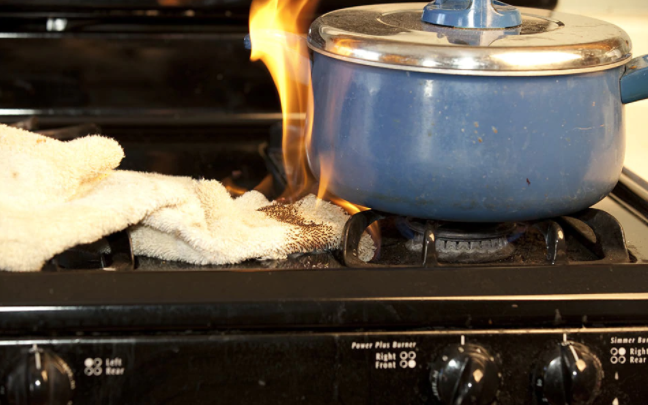 By Nacia Lipton
National Property Director, Risk Control
Cooking is a common cause of home structure fires and home fire-related injuries. Whether preparing for a family dinner or making a quick snack, practicing safe cooking behaviors can help keep you and your family safe.
Never leave your range or cooktop unattended while cooking. If you have to leave the room, turn your range or cooktop off.
Wear short, close-fitting or tightly rolled sleeves. Loose clothing can hang down onto hot surfaces and can catch fire if it comes in contact with a gas flame or electric burner.
Keep your cooking area clean and free of combustible materials. Food wrappers, oven mitts or other materials left on or near the stove may catch fire.
Be sure to clean up any spilled or splattered grease. Built-up grease can catch fire in the oven or on the cooktop.
Keep a fire extinguisher readily available. Having an extinguisher nearby is important, but you also need to have the correct type of extinguisher and know how to properly use it.
Never throw hot grease in the garbage as it can ignite combustible materials. Be sure to let grease cool and consider disposing of it in an old can, such as a metal coffee can.
Do not store food or other items in your oven. It can be easy to forget there is an item in your oven, and this could catch fire while preheating.