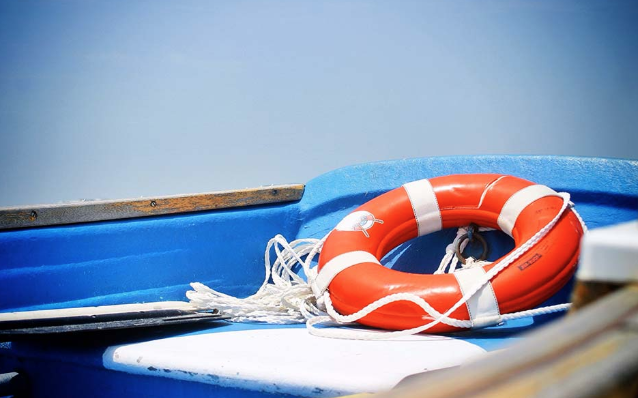 On the shore or out on the water, being prepared to handle an emergency situation is one of the most critical parts of boating safety. Do you know what to do and have what you need on board to respond if your boat is sinking, catches fire, or stops running? What if one of your passengers experiences an emergency?
The following are some tips to help minimize damage to your vessel and help preserve the safety of your passengers should something go wrong on one of your boating adventures.
Have a Safety Preparedness Kit for Your Boat
At a minimum, make sure that safety and other related-equipment are on your vessel and in good working condition before each outing. U.S. Coast Guard boating safety requirements include the following items:
Working navigational lights.
Map/chart of the waters you are navigating.
Personal floatation devices (PFDs) for each passenger.
Flotation device that can be thrown into water (cushion, ring, etc.).
Operational, fully charged fire extinguisher (charge it before you depart).
Flares.
First aid kit.
Paddle, especially on a small vessel.
Lines/ropes for being towed or pulled back to shore.
Signaling device (horn, mirror, portable light, etc.).
Communication device to contact outside assistance, if necessary, such as a VHF radio (recommended) or cell phone.
Other Important Considerations for Boating Emergency Preparedness
A boating emergency can happen anytime, anywhere — and does not only refer to a problem with your vessel, but also to any dangerous situation involving one of your passengers. It is key to remain aware of your situation and assess your risk before leaving shore and during your trip:
Monitor the weather before and during your outing.
Know the water temperature — this can help you determine how long you or your passengers can safely remain in the water while waiting for help or swimming to shore.
File a float plan with a friend, relative and/or the U.S. Coast Guard.
It is also important NOT to signal for help if you do not need it. The U.S. Coast Guard will only come out to your aid if someone's life is in danger. You should only send out a Mayday call if there is risk of imminent peril, such as if your boat is sinking or has caught fire, in which case, remember: Read More